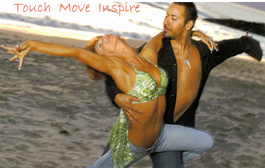 Titles
World Mambo Champions
2 Time World Salsa Champions
5 Time American Rhythm Grand Finalists
Current U.S. Silver Medialists
Theatrical Arts Champions
Argentine Tango Champions
Performing Credentials
Currently Featured Dance Artists on America's Ballroom Challenge
Seen on PBS
Featured Performers for the Gracie Allen Awards
Featured Performers for the "dancers for Life Tribute" at the New York City Center on Broadway
Latin Choreographers for American Express Industrial Film.
Soloists aboard the "Queen Elizabeth 2" Swing Review with Ann Hampton Callaway
Soloists with Peter Nero and the Philly Pops orchestra live at the Kimmel Center
Assistant choreographers for Celine Dion Music Video and 2008 World Tour
Our Story
Carolina Orlovsky-Telona and Felipe Telona have been devoting their lives together in developing the ability to touch, move, and inspire both audiences and students of all ages thru the art of dance.
Carolina knew from a young age when she began studying ballet under the direction of Ms. Bella Kovarskya that she would grow up to be a dancer. At Eighteen Carolina boarded a bus bound for New York City. She went on to study at the Alvin Aliey American Dance Center, become a recipient of the Richard Ellner Scholarship and apprentice for two consecutive years in Ann Reinking's Broadway Theatre Project.
However, it was not until she met Felipe in the basement of a Dance Studio in New Jersey did she realize her true calling, the World of Dancesport. Shortly after their introduction two things began to blossom, both her love for him and her love of Competitive Dancesport.
A year later, Carolina and Felipe formed a partnership in both marriage and dance. They have since gone on to become 3-time United States Bronze Medallists, World Mambo, World Salsa Champions, and most recently United States Silver Medallists in the Professional American Rhythm division.

A 3rd Degree Black Belt, Felipe was offered both a football and baseball scholarship but his heart was set on dancing when he decided to turn professional after only three years of dancing as an Amateur, during which time he won the 1999 Blackpool Latin Formation team title.
He began his professional Career in New Jersey where after only three months with his first partner he placed Fifth in the U.S. American Rhythm division. A day after returning from the U.S. Championships he asked Carolina out on a date. And so began their courtship and shortly after their partnership, which is now going in its sixth year.
YouTube 2007 America's Ballroom Challenge - Theater Arts Performance